Person-Centered Care for Persons Living with Disabilities During the COVID-19 Pandemic
September 17, 2020 @ 12:00 pm - 1:00 pm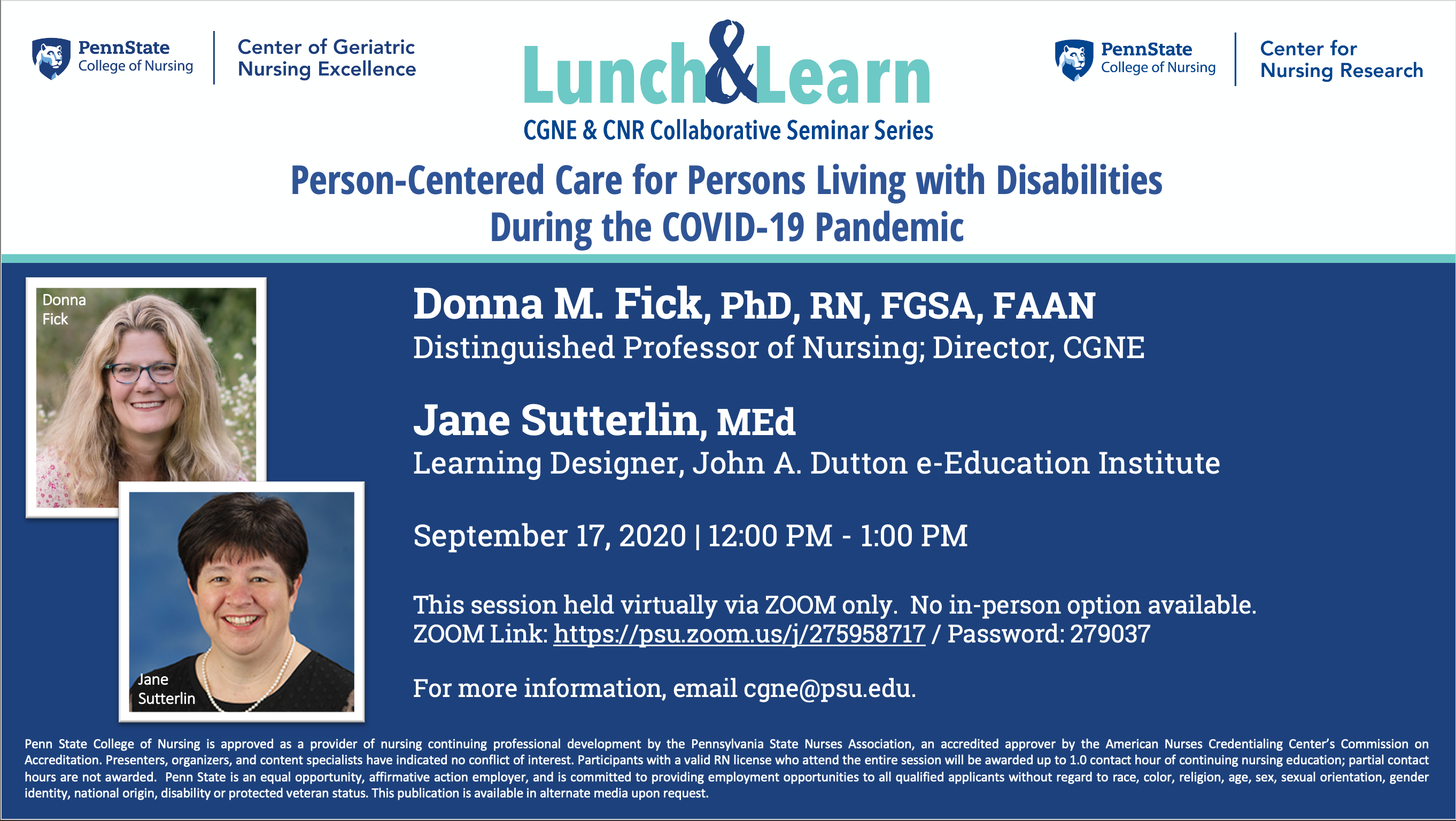 Presentation Description:
A review of issues (e.g., isolation, access to visitors, rationing of care) affecting persons living with disabilities and dementia during COVID-19 will be offered.  Presenters will provide information regarding the presentation of disease, infection control, sensory issues, ageism, and ableism, including a discussion on solutions with a focus on advocacy, positive language in communications and media, access to medical care and technology, and innovative strategies for improving care.  Finally, case examples will be studied with a conclusion examining lessons learned and looking to the future.
Fick Short Bio:
Dr. Donna Fick is a Distinguished Professor at Penn State, Elouise Ross Eberly Endowed Professor of Nursing, and Director of the Center for Geriatric Nursing Excellence. Her research has focused on two critical issues in older adults: inappropriate medication use and delirium. She has co-chaired the Beers Criteria for medication use since 2002 and has completed two NIH funded intervention trials on delirium and delirium superimposed on dementia (DSD). Fick spent her 2013 sabbatical working on the problem of detection of delirium at the bedside with colleagues from Harvard and Hebrew SeniorLife, resulting in an ultra-brief 2-item (UB-2) delirium screener, "What is the day of the week?" and "Months of the Year backwards" that has 93% sensitivity to detect delirium and 96% sensitivity to detect DSD, published in the Journal of Hospital Medicine.  She is in the final year of an R01 grant to study the cost-effectiveness and bedside use of this tool. With over over 120 publications, Fick actively works to train other clinicians in best practice delirium care, as well as serving on national initiatives and panels to improve delirium and DSD outcomes. She is on the board of the American Geriatrics Society, NAS Forum of Aging, Disability & Independence, on a think tank for the campaign for Illuminating Delirium in Dementia, and as a consultant for the Global Council on Brain Health. Dr. Fick is Editor of the Journal of Gerontological Nursing and is board certified as a Gerontological Clinical Nurse Specialist through 2024.
Sutterlin Short Bio:
Jane Sutterlin is currently a Learning Designer in the John A. Dutton e-Education Institute in the College of Earth and Mineral Sciences at Penn State. She collaborates with other faculty and staff members in the development of effective online instructional materials and courses for the College of Earth and Mineral Sciences, and consults with content faculty on best teaching practices that result in successful student learning outcomes for Penn State's diverse student population.  Since 2005, Sutterlin has collaborated with content experts and designed courses that utilize technology as a tool for learning while implementing current learning science research strategies.  Sutterlin earned a Master's Degree in Learning, Design and Technology in 2015.  She has presented at both local and national conferences on topics that involve incorporating new technologies and pedagogy into teaching and learning