Disrupting and Innovating Healthcare: The Contributions of Nursing Research
September 3, 2020 @ 12:00 pm - 1:00 pm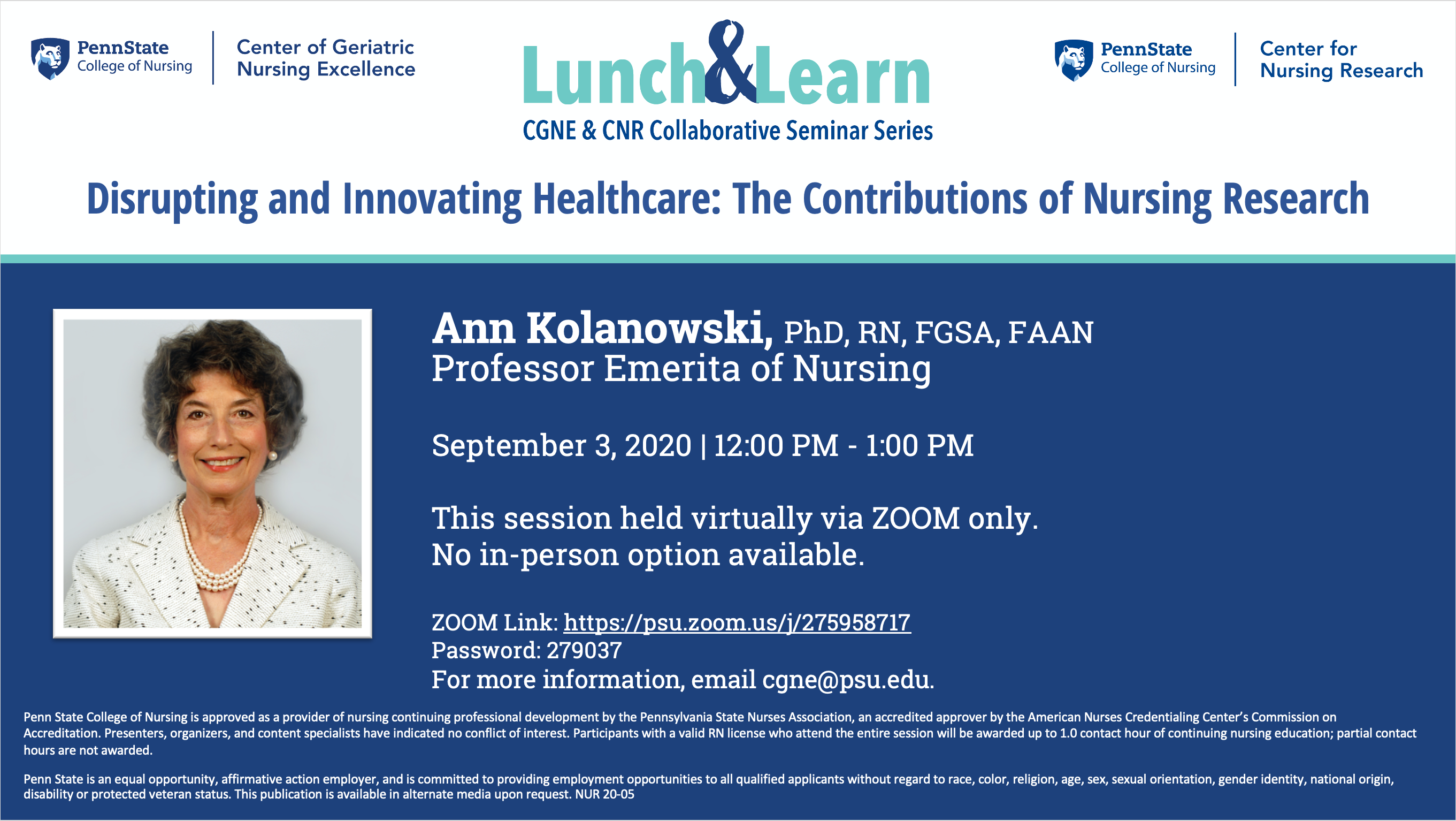 Presentation Description:
This presentation is given in honor of the Year of The Nurse and the front-line caregivers who are waging the battle against the COVID-19 pandemic. Topics covered will include a brief account of nursing's historical scientific heritage and current nursing research that is making a difference in the lives of people. The presentation will conclude with a discussion of what participants see as the most pressing research questions to address over the next 5 to 10 years.
Bio:
Dr. Ann Kolanowski is Professor Emerita of Nursing in the Ross and Carol Nese College of Nursing Penn State University.  She conducts research on non-pharmacological interventions for symptoms of distress and delirium, both commonly exhibited by people living with dementia in nursing homes. Her work has been supported by grants from the National Institute of Health/National Institute of Nursing Research, the Alzheimer's Association, the Hartford Foundation, the Commonwealth Foundation and the Neuroscience Nursing Foundation. She is currently one of the principal investigators on an NIH-funded project and is testing the effectiveness of an implementation strategy for helping staff integrate person-centered approaches for symptoms of distress in long-term care settings. Dr. Kolanowski is also the principal investigator for the Recall Foundation grant: Geriatric Nursing Leadership Training Program for Optimizing Quality in Veterans Administration Long-Term-Care. She has published over 150 papers on dementia in scientific journals and serves on many scientific advisory boards including the VA Quality Enhancement Research Initiative and Music & Memory: a Pragmatic Trial for Nursing Home Residents with Alzheimer's Disease. Dr. Kolanowski is the recipient of the 2012 Doris Schwartz Gerontological Nursing Research Award. She is a fellow in the American Academy of Nursing and the Gerontological Society of America, and the founding director of the Hartford Center of Geriatric Nursing Excellence at Penn State University.