Overview
Interdisciplinary collaboration is the hallmark of our research. Faculty partner with scientists within and beyond Penn State on studies that encompass the life span. Grants from federal and private foundations (including National Institutes of Health, American Nurses Foundation, Inc, Health Resources & Services Administration, International Association of Forensic Nurses, Gordon and Betty Moore Foundation, The Regents of the University of California, Robert Wood Johnson Foundation, National Institute of Justice, Pennsylvania Commission on Crime and Delinquency, ALS Association, Miami University, State of Ohio) support the work of our researchers.
The Ross and Carol Nese College of Nursing's Research Office provides an organized infrastructure designed to support graduate research faculty and their interdisciplinary teams throughout the various stages of their projects, from preparing proposals and obtaining funding to disseminating results in peer-reviewed journals and at national and international conferences.
2023 Translating Research to Innovations in Practice Symposium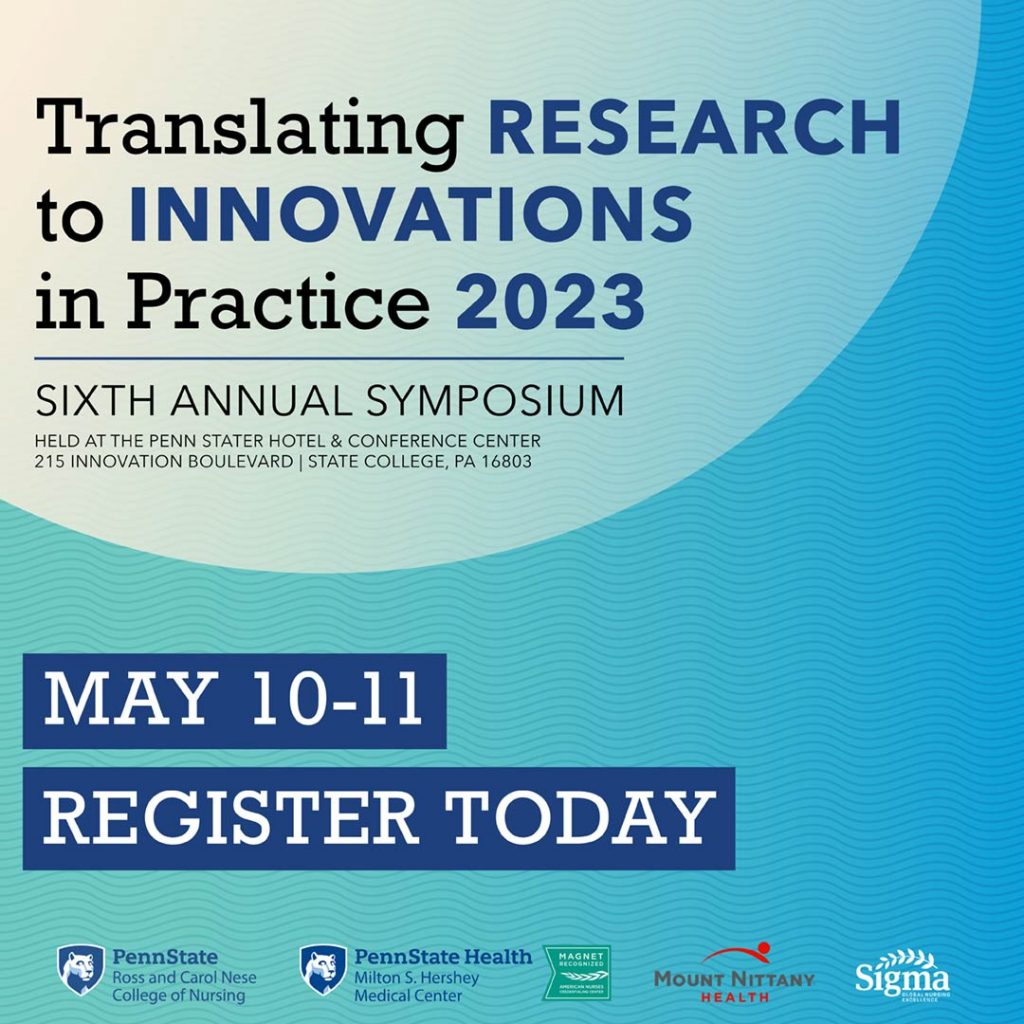 2023 Schedule
All events held at:
The Penn Stater Hotel & Conference Center,
215 Innovation Boulevard
State College, PA 16803
Reception and Poster Session,
May 10, 6:00–8:00 p.m.
General Symposium,
May 11, 8:30 a.m.–3:30 p.m.
Doors open at 7:45 a.m.
For more information and to register, follow the button.
Focused Research Areas
Gerontology

Person-Centered
Dementia/Delirium
Cognitive Health
Age & Dementia-Friendly Health Systems

Palliative and End-of-life Care

Individuals & Families Managing Life-Limiting Conditions

Physiological & Molecular Mechanism Underlying Health and
Well-being

Sleep, mood, cognition, adolescent behavioral endocrinology

Health and Healthcare Disparities

LGBTQ
HIV
College students
Sexual/Interpersonal Violence
Rural

Intervention and Implementation Science

Overarching many of the above

Telehealth
Nursing Education