Grief and Loss
October 29, 2020 @ 12:00 pm - 1:00 pm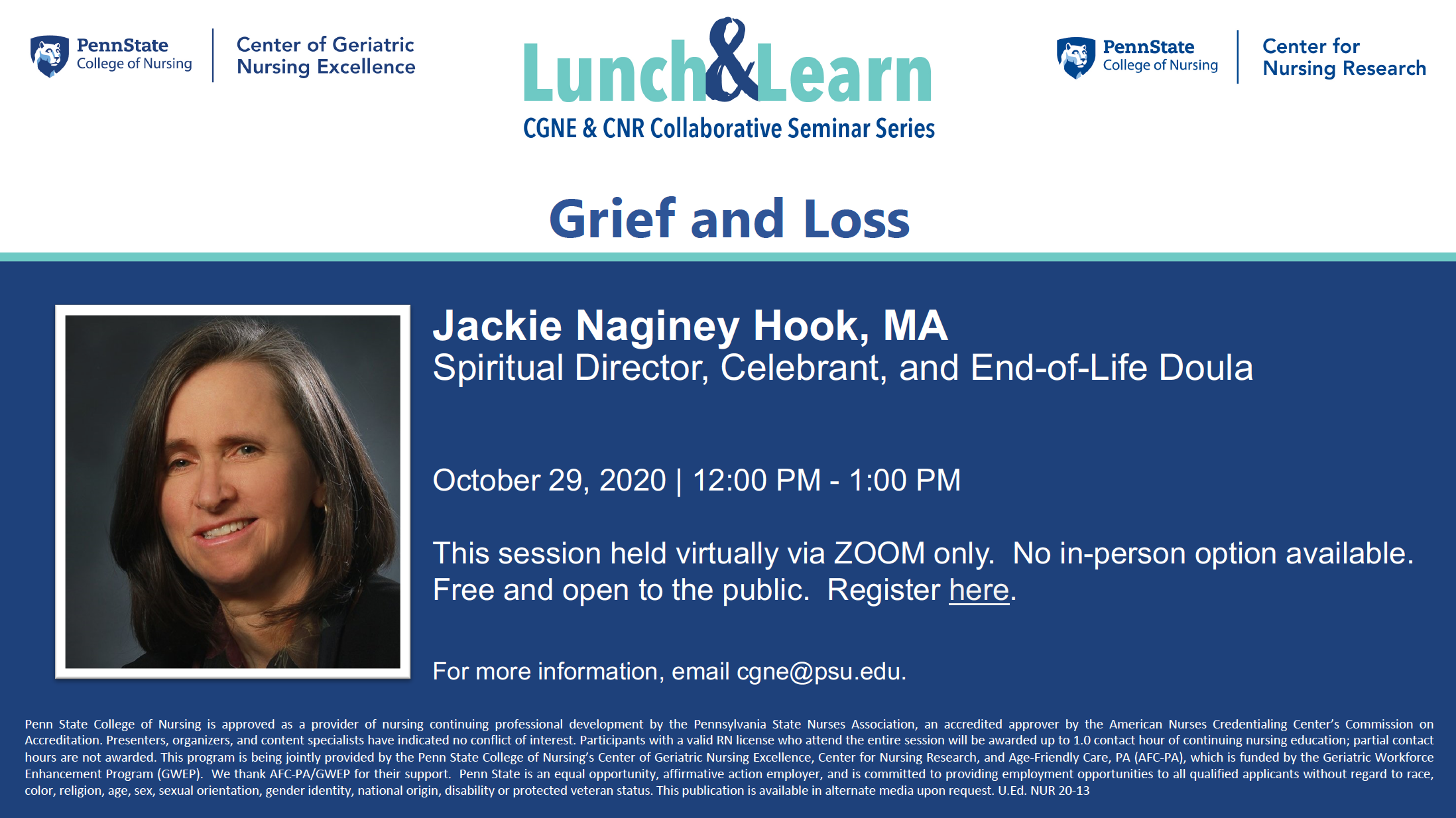 Presentation Description:
While grief is universal to every human, each person's grief experience is unique.  This presentation illustrates the power of a caring professional and an atmosphere of compassion and comfort to help the individual move through and fully metabolize grief.  The presenter will teach the art of emotional alchemy to welcome, rather than fear, the pain of loss, turning grief into gratitude.  Practical advice will be provided to encourage healing and transformation while combatting lingering unexpressed sorrow.  Obstacles to successful grief work, such as privatized pain, will also be explored as well as powerful tools to overcome those obstacles, allowing mourners to acknowledge and embrace pain and loss.
Presenter Bio:
Jackie Naginey Hook, MA is a spiritual director, Life-Cycle Celebrant™ and end-of-life doula who coordinates the Helping Grieving Hearts Heal program with Koch Funeral Home in State College, PA, including Having the Talk of a Lifetime, grief companioning, memorable funeral ceremony creation, remembrance service facilitation, legacy reception coordination, community outreach, and end-of-life support.  She is the co-founder of Learning to Live: What's Your Story?, a co-facilitator of HEART- Helping Empty Arms Recover Together, a member of Grief Connection and writes articles for the Centre Daily Times, Centre County Gazette, Huntingdon Daily News and Centered magazine.  Jackie has a BS in business from Penn State University and an MA in Wellness from the University of Central Florida.