Age-Friendly Care, PA: What Matters I, Preferences for Care and Quality of Life
October 22, 2020 @ 12:00 pm - 1:00 pm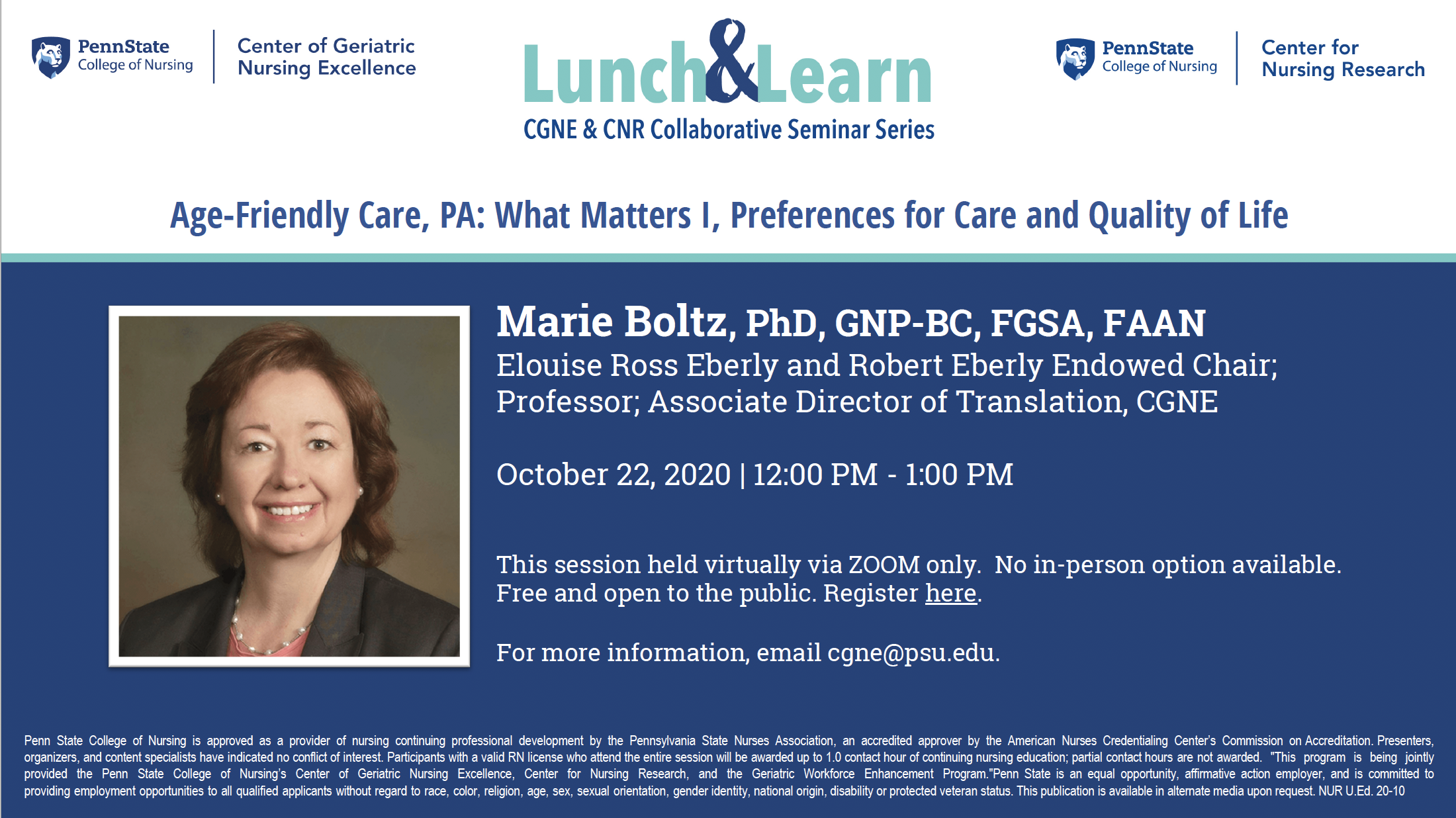 Presentation Description:
The Age-Friendly Health Systems movement is underway in the US with the goal of ensuring that every older adult receives the best care possible, is not harmed by care, and is satisfied with the care they receive.  Age-Friendly Health Systems uses the "4Ms" framework to bring focus to What Matters, Medication, Mentation, and Mobility.  When practiced as a set, these 4 essential elements can improve patient care, save resources, reduce harm, increase job satisfaction, and empower older adults and their caregivers.  This seminar will focus on What Matters to each older adult; i.e., asking not only "what's the matter," but also what matters to the patient in order to understand patient life context/priorities, and to align care with each older adult's specific health outcome goals and care preferences.
Presenter Bio:
Dr. Marie Boltz, Elouise Ross Eberly and Robert Eberly Professor of Nursing, Penn State Ross and Carol Nese College of Nursing, provides instruction to both undergraduate and graduate nursing students, serves as Associate Director of Translation of Best Practice for CGNE, and is a member of the board of directors for the National Hartford Center of Gerontological Nursing. With extensive clinical, administrative, and research experience in long-term care, she is a board-certified gerontologic nurse practitioner and licensed as a nursing home administrator. Her areas of research focus on the geriatric care environment including measures of quality, dementia-capable and family-centered interventions, the prevention of functional decline in older adults, and the functional recovery of older adults during post-acute care. She presents nationally and internationally, and has authored or edited numerous journal publications, organizational tools, and chapters/books.
Dr. Boltz is a fellow in both the American Academy of Nursing and the Gerontological Society of America. In May, Gerontological Society of America (GSA) announced that Marie is the 2020 recipient of the Doris Schwartz Gerontological Nursing Research Award, a prestigious honor presented to a scholar who has a record of outstanding and sustained contribution to geriatric nursing research.  Elected to the GSA board of directors, Dr. Boltz will take office with ten other national leaders on January 1, 2021.