Age-Friendly Care: Medication Management in Older Adults, Part I
February 4, 2021 @ 12:00 pm - 1:00 pm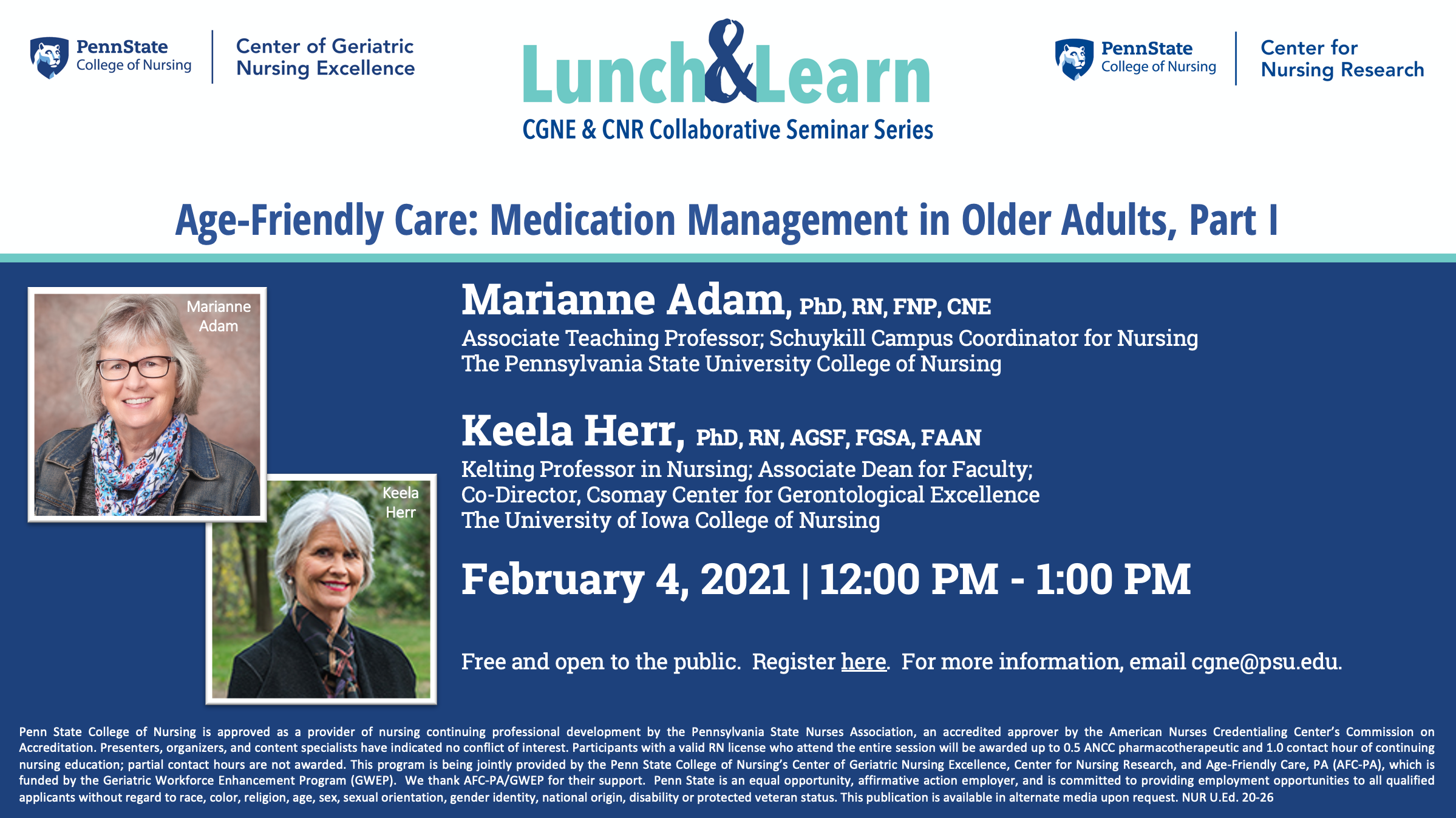 In addition to receiving 1 contact hour of continuing nursing education, participants with a valid RN license who attend the entire session will be awarded up to 0.5 ANCC pharmacotherapeutic contact hours.
Presentation Description:
The presentation will provide an update of programs and initiatives in place to combat the substance use epidemic.  In addition, an overview of pain in aging will be offered, including the status, challenges and recommendations for improving quality of pain care for older adults.
Presenter Bios:
Marianne Adam, PhD, RN, FNP, CNE
Associate Teaching Professor; Schuykill Campus Coordinator for Nursing
The Pennsylvania State University College of Nursing
Dr. Adam has been a nurse for over 35 years and is a family nurse practitioner. Adam's undergraduate nursing education was obtained in the State University of New York system. She has an MS from Adelphi University (New York) in Nursing Service Administration, a post-Masters Family Nurse Practitioner certificate from Allentown College and a doctorate from the Pennsylvania State University major in Nursing with a minor in Adult Education.
Adam is a member of Sigma Theta Tau International Nurses Honor Society (STTI), Pennsylvania State Nurses Association, American Nurses Association and the American Association of Nurse Practitioners. She serves on the board for Beta Sigma, the Penn State chapter of STTI.
Dr. Adam has been teaching nursing students for over twenty-five years. In addition to nursing education, Adam has worked in the areas of administration, medical/surgical, critical care and home care nursing. Since 2014, Adam is the RN to BSN program coordinator and associate teaching professor of Nursing at Penn State Schuylkill.
Previously, Adam was a faculty member at Moravian College in Bethlehem, Pennsylvania. In the course of her teaching career, Adam taught in baccalaureate nursing (BSN), RN to BSN, master's (MS) and diploma nursing programs. She accompanied nursing students to Honduras (2003, 2007, 2013, 2018 and 2019) and Hong Kong (2019) for international health care experiences. Additionally, Adam taught Freshman Experience, an interdisciplinary course (culture and healthcare), and a biological science course to non-nursing baccalaureate students.
Keela Herr, PhD, RN, AGSF, FGSA, FAAN
Kelting Professor in Nursing; Associate Dean for Faculty; Co-Director, Csomay Center for Gerontological Excellence
The University of Iowa College of Nursing
For more than 30 years, Dr. Herr has engaged in a program of research, scholarly, and professional activities focused on the problem of pain in older adults, with emphases in assessment strategies, improving practices through translation research and end of life care. Her research focusing on improving pain management practices for older adults in diverse settings has been funded with over $20 million from the National Institutes of Health, National Institute of Nursing Research, Agency for Healthcare Research and Quality, National Cancer Society and private foundations.  Dr. Herr is co-PI of the Ross and Carol Nese College of Nursing's NINR T32 pre- and post-doctoral training grant focused on Pain and Associated Symptoms.
Herr presents nationally and internationally on strategies for improving assessment and management of pain in elders and has published extensively on the topic of elder pain. She provided expert consultation to the American Geriatrics Society (AGS), the American Pain Society (APS) and the International Association for the Study of Pain (IASP) in establishing standards for pain assessment in older persons and contributing to clinical practice guideline development. Her expertise in measurement and improving practices led to involvement in national initiatives to develop quality measures for improving pain care in various settings. Dr. Herr served on national panels to examine safety issues related to pain care in older adults, including FDA Expert Panel on Analgesic Management of Pain in Older Adults, NIA/NIH Pain Consortium Expert Panel on Pharmacological Management of Chronic Pain in Older Adults, and Technical Advisory Panel for Medication Safety for Quality Innovation Network-Quality improvement Organization.  She provided national professional leadership in service on the Board of Directors for the American Geriatrics Society, the American Society for Pain Management Nursing (ASPMN), and the American Pain Society (APS) and currently serves on the Board of Directors of the new United States Association for the Study of Pain (USASP).  Dr. Herr was a leader in the development of national interprofessional prelicensure core pain competencies and in identifying strategies to improve health professional pain education and practices, leading a national effort to provide best practice tools and resources to improve pain care for older adults (www.GeriatricPain.org).
Herr has received numerous awards for her contributions to geriatrics and pain care for older adults with the most recent Gerontological Society of America's Doris Schwartz Gerontological Research Award, John A. Hartford Foundation/MNRS Award for Leadership in Geriatric Nursing Research, the Lifetime Achievement Award from the National Gerontological Nurses Association and the Distinguished Researcher Award from the Hospice and Palliative Nurses Association. She is a Robert Woods Johnson Executive Nurse Fellow alumni and Fellow in the American Academy of Nursing, the American Geriatric Society and the Gerontological Society of America.