News & Events
Penn State SI's Sustainability Experience Center Collective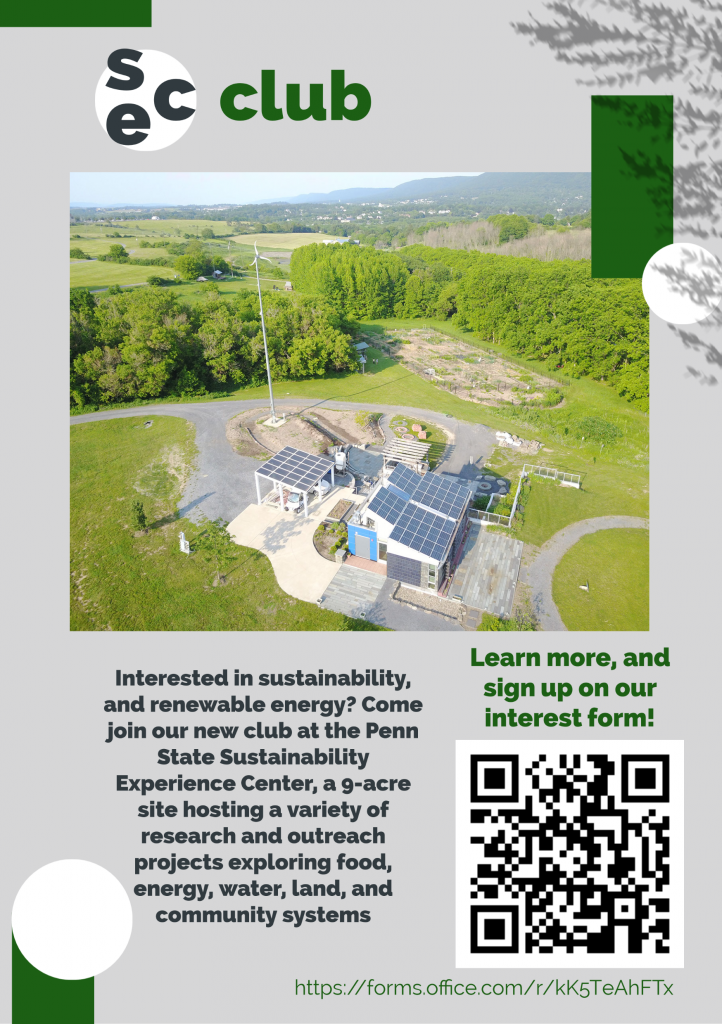 Hello! 
We are reaching out to you from the Penn State SI's Sustainability Experience Center (SEC) to share an opportunity for your students! We are in the process of forming a new club focused specifically on our site itself called the SEC Collective.
The mission of the club will be to engage students to explore the use of the site through programs, events, and activities. Members will also provide tours of the site, and they will further develop the site through workdays, and art/ scientific research projects. We intend to host many community events such as sustainability workshops, dinners, outdoor movie nights, site workdays, and our flagship event will be an eco-tailgate for the 2022 Blue & White game all at the SEC.
Interested students can scan the QR code in the attached flyer!
Best regards,
The SEC Student Interns 
Madi Reszek (mbr5566@psu.edu) 
Satyam Patel (sqp5676@psu.edu) 
Understanding Why Nature Matters to Older Rural Women's Health and Well-Being
03.04.21-Why-Nature-Matters-Advertising-Flyer

College of Nursing rising to prominence with sustainable development
Matthew J. Long | July 15, 2019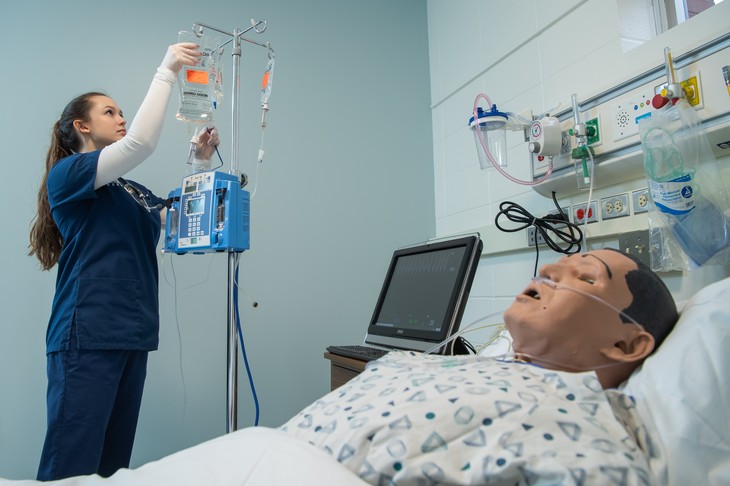 UNIVERSITY PARK, Pa. — For the last several years, the nursing program at Penn State has grown exponentially, not just in terms of available undergraduate programs or students, but with sustainable practices and education.
Darlene Clark, assistant teaching professor with the College of Nursing, has played a critical role in the program's progress over the years. According to Clark, the college's efforts to become more sustainable began when it was still the School of Nursing and received a grant from the Sustainability Institute to start a recycling program in its nursing simulation (SIM) labs seven years ago. The grant was awarded to University Park and all Commonwealth Campuses with nursing programs.
"With the grant, we were able to compost organic materials and incorporate two different kinds of plastic separation," said Clark. "We could finally recycle plastics from items such as IV tubes and otoscopes."
The school expanded into the College of Nursing in 2013, and with the newly acquired status, the college was able to undertake other opportunities in sustainability, most notably with nursing courses. Clark and most of the faculty members who teach first-year seminars take their students to visit the MorningStar Solar Home, a 100% renewable-energy powered house, for a tour to "introduce students to sustainability as a part of their campus they might overlook." The college has also listed sustainability as a definition it its strategic plan.
"Nursing is filled with sustainable behaviors, breastfeeding instead of bottle-feeding, good nutrition, and getting vaccines to protect your children for now and the future," said Clark. "A lot of it is behavior we are teaching our students that they can then pass down onto their patients. These are all threaded through our varying curricula."
In addition to education, the college created several programs and organizations to further its goals. Clark started the college's Green Team, a group of students, faculty and staff that work together to make the organization more efficient, two years ago through the Sustainability Institute. Every year, the team participates in the recycling efforts at a football game, guiding visitors on how to properly dispose of their waste in the correct recycling and trash bins. Three years ago, the college created a sustainability council to oversee all of its projects, a committee that Clark also chairs.
On the future of the college, Clark said she has several ideas on how to improve its programs and courses. She would like to include more of the UN's Sustainable Development Goals (SDGs) in lectures and present students with assignments that ask how a specific SDG can impact one's personal and professional life as a nurse. Another idea would be to work with local hospitals to share practices the college has successfully adopted.
Clark said she is proud of what the college has achieved in becoming more sustainable.
"We started with nothing," said Clark. "It's been growing, and there are barriers of course, but now I think we are one of the most sustainable departments."
Grant has allowed College of Nursing to improve sustainability practices
Ashley Hayford | The Daily Collegian | Jul 17, 2019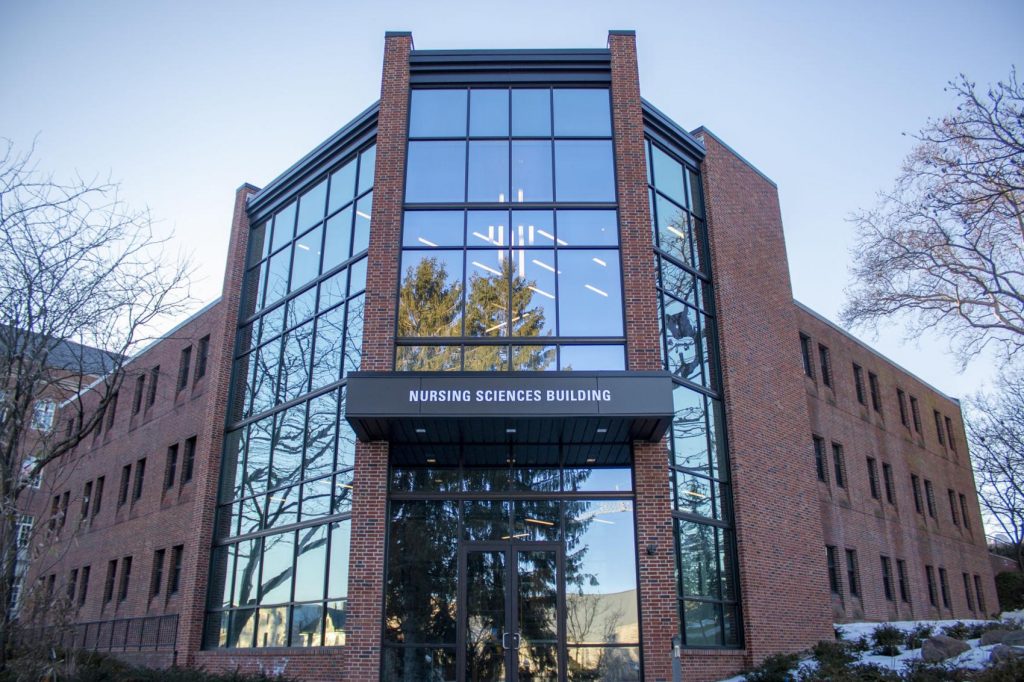 Penn State's College of Nursing is not only notable for its academic excellence, but also for its dedication for sustainable practices and education.
According to an official statement, a grant to the formerly-titled School of Nursing from the Sustainability Insitute seven years ago has been utilized to begin a recycling program for its nursing simulations labs.
Beyond the University Park campus, all Commonwealth campuses with a nursing program received money from the grant. The program meant simulation materials could be discarded in a safe and eco-friendly manner.
"We could finally recycle plastic from tools like IV tubes and Stethoscope covers," assistant teaching professor for the College of Nursing, Darlene Clark said in a statement.
She added that the program also allowed for organic material composting.
In 2013, when the School of Nursing transformed into the College of Nursing, the college began to incorporate sustainability more heavily into its courses. Currently, faculty members that teach first-year seminar courses, such as Clark, bring their students to tour the 100 percent renewable-energy power facility, MorningStar Solar Home.
This practice has become regular within nursing seminars so students are aware of the sustainable opportunities the campus offers.
"Nursing is filled with sustainable behaviors — breastfeeding instead of bottle-feeding, good nutrition, and getting vaccines to protect your children for now and the future," Clark said. "A lot of it is behavior we are teaching our students that they can then pass down onto their patients. These are all threaded through our varying curricula."
Supplimenting the students' education, the nursing program formed organizations and programs to further practice sustainability, which is something the college considers one of its missions.
Clark organized the Green Team through the Sustainability Institute two years ago, according to a press release. This group of students, faculty, and staff participate in efforts such as recycling at football games and educating students and visitors about how to properly dispose of trash and recycling.
In addition, a sustainability council was created to overlook projects and recycling efforts three years ago. Clark acts as a chairperson of the committee and is still looking to further improve the College of Nursing's programs and courses in the future, the release stated.
"[The college]'s been growing, and there are barriers of course, but now I think we are one of the most sustainable departments," Clark said.
Sustainability Institute creates affiliate program for faculty, staff, students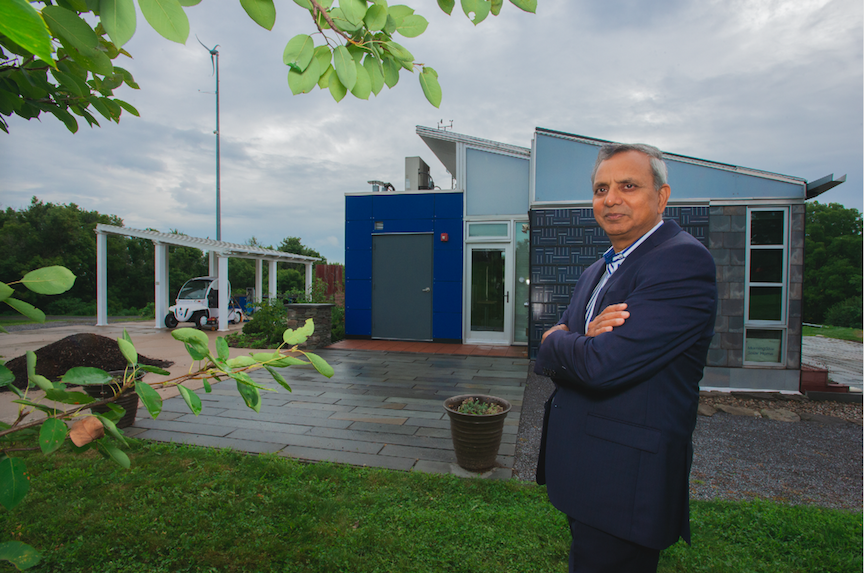 March 19, 2019
UNIVERSITY PARK, Pa. — Calling all poets and philosophers, analysts and advocates, strategists and storytellers — Penn State's Sustainability Institute (SI) is announcing a call for faculty, staff and students interested in becoming affiliates of the institute in order to build stakeholder communities with common interests in issues of sustainability in researching, teaching and engagement.
"The Sustainability Institute recognizes that Penn State has an extensive community of sustainability champions and doers," explained Peter Buckland, the Sustainability Institute's academic programs manager. "Through our Affiliate Program, we are seeking to support and amplify the work of these faculty, staff and students who are developing and implementing solutions, performing cutting-edge research, creating critical artwork, teaching or engaging in a myriad of other ways with sustainability."
Participants in the affiliate program will benefit through:
Becoming connected to a community of like-minded stakeholders working in sustainability;
Having more opportunities to receive professional acknowledgement and honors for their work in the sustainability field; and
Having input on how Penn State navigates its role as a land-grant institution to encourage implementation of sustainability solutions in our local, regional and global communities.
"I signed up because I, as a nursing faculty member, believe that sustainable behavior is at the core of our profession, as we support and teach our patient population how to promote and maintain healthy lifestyles," explained Darlene Clark, assistant teaching professor of nursing. "As an affiliate, I hope to learn how faculty in other disciplines carry out their sustainability mission and would like to collaborate in an interdisciplinary manner when possible."
The affiliate program is open to Penn State community members from all colleges and at all 24 campuses. The SI defines sustainability in the same terms as the global Sustainable Development Goals, which aim to address issues of economic well-being and social justice alongside issues of biodiversity conservation, natural resource management and global warming.
Faculty, staff and students working on anything from addressing hunger and poverty to promoting gender and racial equality to designing innovations in infrastructure and industry are all encouraged to see their work as part of the University's sustainability mission.
"As the director of campus outreach for the Student Farm, my daily life is linked to conversations of sustainability and food systems," said Whitney Ashead, a junior double major in geography and agricultural science. "Becoming an affiliate to the Sustainability Institute provides me the opportunity to build valuable connections, increase access to valuable resources, and further enhance the mission of the Student Farm."
Accepted affiliates are expected to focus on sustainability as one of their areas of teaching, research, engagement, operational and/or co-curricular activities and to participate when possible in some of the SI's public events.
Interested applicants need merely to submit a brief statement of interest along with a biography at: https://sustainability.psu.edu/webform/sustainability-institute-affiliate-program.