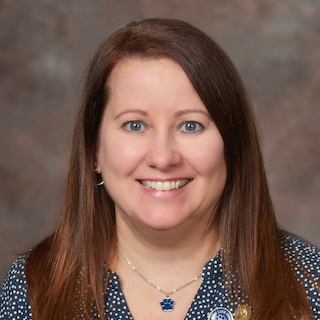 Hello, Penn State Nursing! My name is Lois Thompson and I currently work as a Certified School Nurse for the State College Area School District, am a Certified Faith Community Nurse for the Fairbrook United Methodist Church, and the newly-appointed President of the Penn State Ross and Carol Nese College of Nursing Alumni Board of Directors.
I started my nursing journey in 1987 when I was accepted into the Penn State College of Health and Human Development at University Park as a nursing major. I was a first-generation college student and so excited to be accepted to Penn State, however I soon found out that growing up in a small rural town had placed me at a disadvantage. Success came only with a large student loan, a few part time jobs, and a healthy dose of determination. While I was at Penn State, I had the opportunity to get involved in Gamma Sigma Sigma, a community service based sorority, and SNAPS. It was here that my heart found joy and purpose in mentoring and service. My future in mentoring started with Gamma Sigma Sigma and has continued throughout my career. My future in service started with SNAPS, where I served as both Vice President my third year and then President my fourth year, and was also chosen as The Nurse of Hope for the American Cancer Society in 1991 and continues today.
As a new RN, I started my career at the Hershey Medical Center, where I had thrived during my clinical. I chose to be a nurse to impact the world around me and to make a difference and I choose to concentrate on Pediatrics and Womens' Health because these areas captured my heart. While employed at Hershey Medical Center, I had the opportunity to work in all areas of Pediatrics and Women's Health, both inpatient and outpatient. I believed that I could have the largest impact on my patients' lives as a Maternal Child Nurse Specialist and my Penn State Nursing education had prepared me to achieve this goal.
When my family chose to return to Centre County in 1998, I found there was not a need for my particular nursing skill set, so I reevaluated my nursing career goals and decided it would be best to go where the kids were and into Public Health Nursing as a Certified School Nurse. It quickly became clear that I was right where I was supposed to be. This career change awarded me the opportunities to find my passion for public education, to mentor young people as a Camp Nurse, and to serve as a Faith Community Nurse, a Medical Mission Nurse, a nurse for Centre Volunteers In Medicine, and as a Penn State Ross and Carol Nese College of Nursing Alumni Board Member. I have served the alumni board since 2013 when we became The Penn State College of Nursing, and served as the Awards Committee Chair from 2018-2020, the Membership Chair and President Elect from 2020-2022, and an active mentor in the Penn State College of Nursing Alumni Mentoring Program.
In addition, I have been a guest speaker for nursing career panels where I share my passion for nursing and my journey. Along this journey, I earned advanced certifications in Pediatrics, Faith Community Nursing, and School Nursing. In addition, I earned my Masters in Nursing Education, also from Penn State. In 2016 a colleague nominated me and I was awarded the Top Pediatric Nurse in Pennsylvania Award. I am a current member of the Pennsylvania State Nurses Association, the American Nurses Association, the International Nurses Association, The Pennsylvania Association of School Nurses and Practitioners, the National Association of School Nurses, and Sigma Theta Tau International Honor Society of Nursing. As a registered nurse, I am deeply committed to the nursing profession and passionately committed to providing the best quality of care to my patients. It is my hope that by sharing my knowledge, skills, and experiences, that I might leave a lasting impact for the greater good.
Thank you, Penn State for helping shape who I have become and giving me the opportunity to further my service to my community. WE ARE…