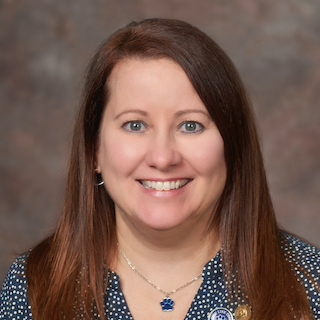 Dear Nursing Alumni and Friends,
As I reflect on my first term as your Penn State Ross and Carol Nese College of Nursing Alumni Society Board president, I am so proud of all our Penn State nurses and the impact we are having locally, nationally, and around the world. As an alumni board, we have been strategic in connecting with alumni and students from our commonwealth campuses working towards our goal of being "One College of Nursing". In addition, we have had some amazing events and opportunities where we have been able to engage with students, network with one another, learn, and offer our support to the Penn State Alumni Association and the Penn State Ross and Carol Nese College of Nursing.
Last summer, the careers committee of the alumni board collaborated with Penn State Behrend to host a welcome back event to connect students and alumni. In September, we had a wonderful turnout for the annual Ross and Carol Nese College of Nursing Alumni tailgate at Pegula Ice Arena. In October, several alumni participated in the homecoming parade, which is always great fun. We held our Fall Alumni Society Board meeting in November, where we connected with several of the nursing student groups. In December, we collaborated with the College of Health and Human Development and held a successful virtual nursing contact hour event, Disconnect to Reconnect: How to Cope with Environmental Factors that Impact Your Wellbeing. We are currently planning our Spring Alumni Society Board weekend, where we will award four alumni and two student awards at the college's awards celebration and we will be hosting an alumni and student engagement panel titled Surviving Your First Year: Advice for Novice Nurses.
If you want more information on Penn State Nursing Alumni Society, please visit the Penn State Ross and Carol Nese College of Nursing website or the society board's Facebook page. If you are interested in getting involved, please complete the volunteer interest form or send an email to psunursingpresident@gmail.com. Remember to check your emails for updates on all of our upcoming events!
For the Glory,

Lois Thompson, MSN, RN, CSN, FCN
President, Ross and Carol Nese College of Nursing Alumni Society Board