Understanding Why Nature Matters to Older Rural Women's Health and Well-Being
March 4, 2021 @ 12:00 pm - 1:00 pm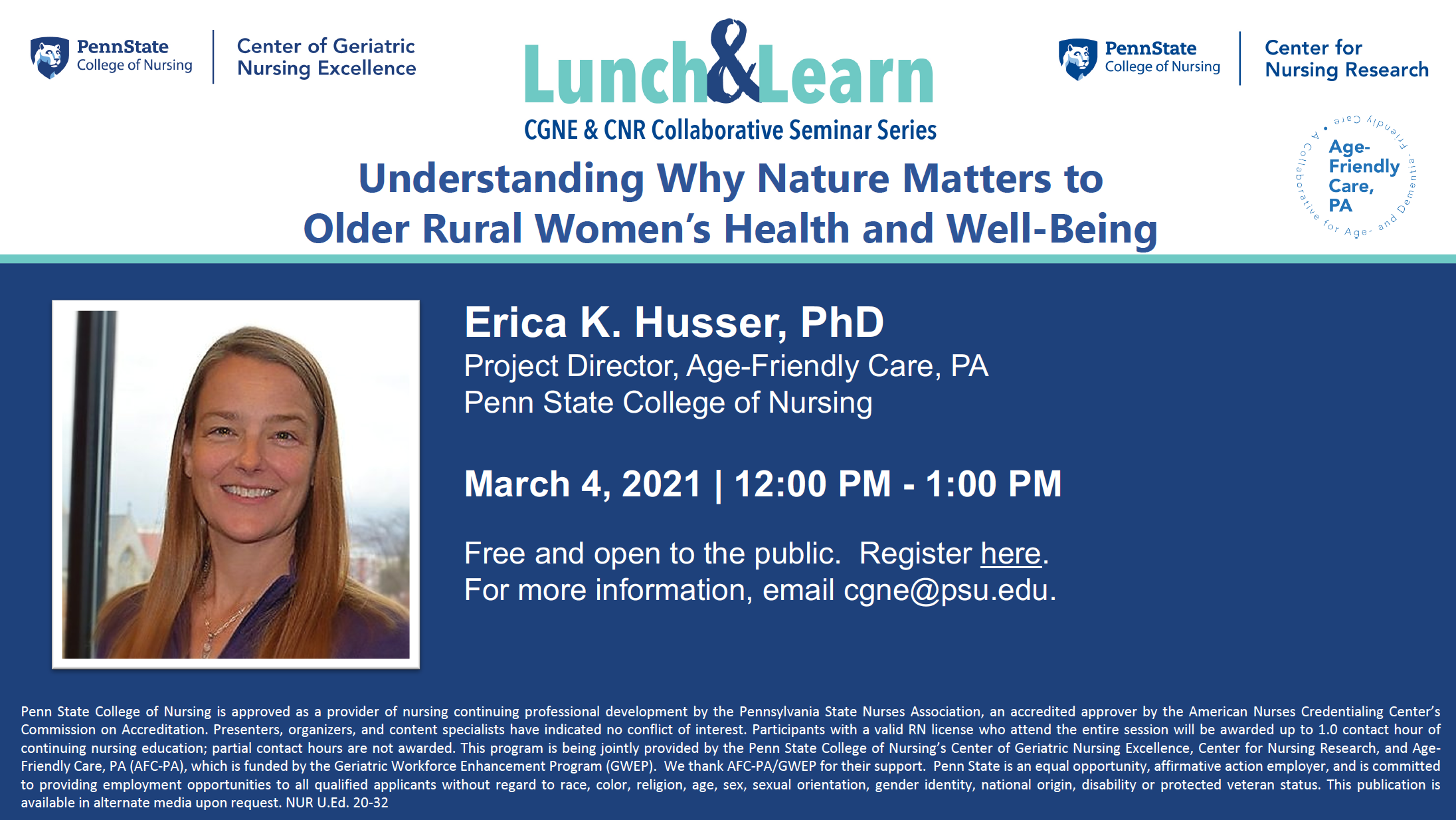 Presentation Description:
Nature is a dynamic context for Human Development and there has been a recent growth in the recognition of its potential for providing healing spaces for therapy, healing, restoration, and reflection. At a time when our civilization finds itself in a crisis of climate, culture and care, nature offers the potential for boosting health and healing and growing connections between one another and communities. The presenter will share her research on the influence of nature on rural older women's health and well-being and discuss the implications of this research for growing a culture of care among both health care communities and civil society. In addition, she will introduce the United Nations Sustainable Development Goals and draw connections between nursing and climate, so tomorrow's health care providers understand the spectrum of issues related to the influence of environment of both health and healing.
 Presenter Bio:
Dr. Erica Husser earned her PhD at Virginia Tech in Human Development with a concentration in Adult Development and Aging. She also has a Graduate Certificate in Gerontology and recently became a C2C Fellow with the Center for Environmental Policy at Bard College. Dr. Husser's academic work has included the study of older women's health adaptations to chronic disease management, sexuality, and social and intergenerational relationships and programming. Her dissertation focused on the role of the natural environment in the lives of older women living in rural areas. Prior to joining the Penn State community, Dr. Husser worked with a consulting firm in DC where she led public comment analysis and contributed to program evaluations for the National Institutes of Health (NIH). Currently she is a Project Director with the Ross and Carol Nese College of Nursing, where she leads two initiatives: Geriatric Workforce Enhancement Program (GWEP), Age-Friendly Care, PA, Co-PIs are Drs Judith Hupcey and Donna Fick, and the second is Dr. Donna's Fick's READI project (Researching Efficient Approaches to Delirium Identification), which involved overseeing a multi-site implementation study of a two-step delirium identification protocol in acute care. Today, with the crescendo of attention on the climate crisis, racial division, economic inequality, and human suffering, Dr. Husser is focusing on the role of nature and nature-based activities as a source of healing and empowerment toward growing the culture of care.