Trends in Racism and Health Inequities Among Aging Populations of Color
January 21, 2021 @ 12:00 pm - 1:00 pm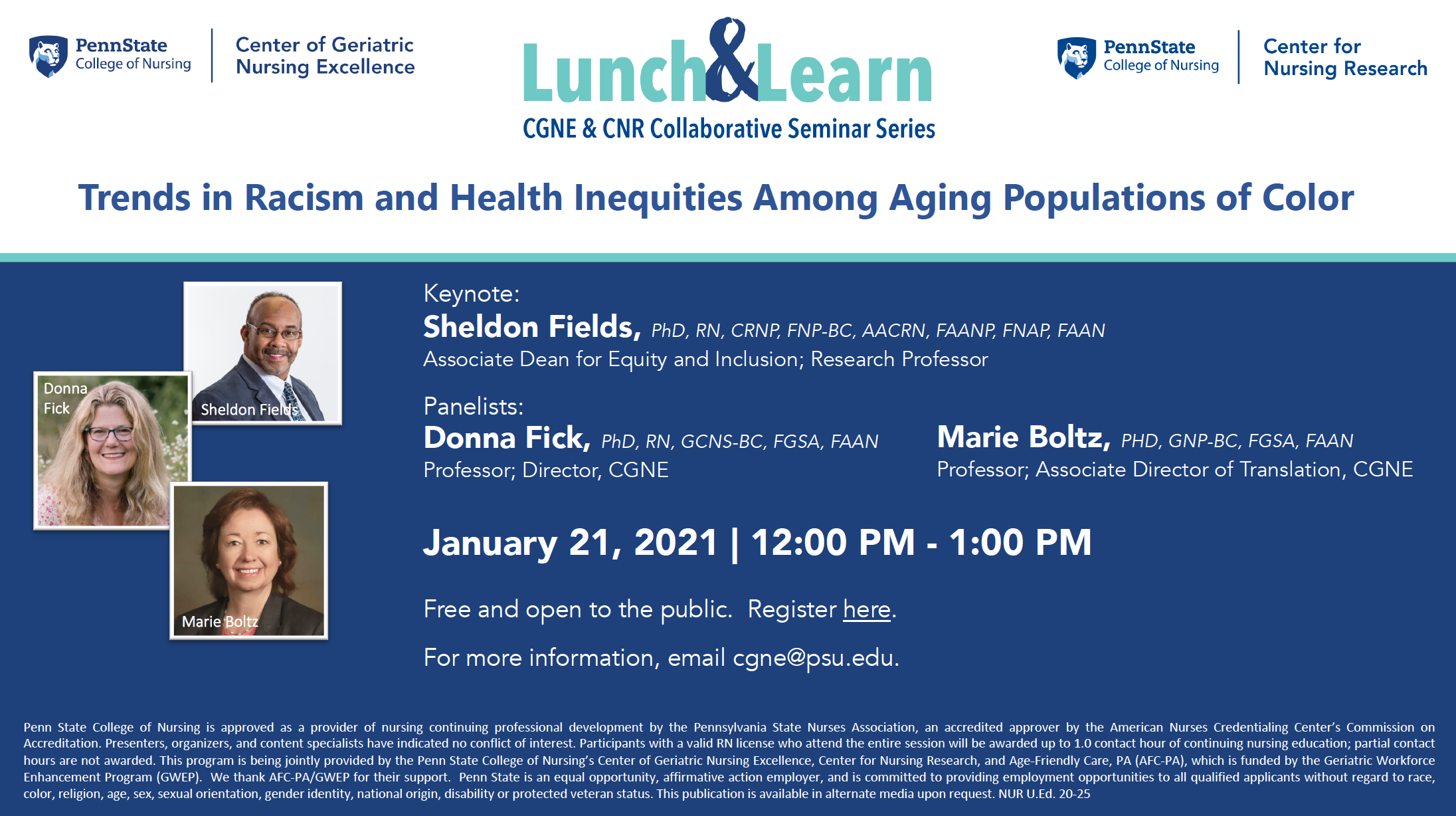 Presentation Description:
The overall population in the United States is becoming increasingly more racially and ethnically diverse, while aging at the same time. One in five Americans will be 65 or over by 2040. This population will number some 80 million, representing a doubling. Health disparities/inequities among racial/ethnic populations persist – some worsen as they age. Issues related to systemic/institutional racism and its intersection with the social determinants of health reveal that the vulnerabilities of a population are disproportionately impacted as it ages. In addition, the intersection of ageism and racism, including dementia-related racial disparities, have been further exposed by COVID-19.
Presenters will offer theories framing the intersectionality of age and race and best practices to support culturally appropriate care and research. Attendees will be able to discuss the trends in racism and health inequities among aging populations of color, begin to reflect upon their own attitudes, and discuss the implications of health disparities on practice and policy.
Presenter Bios:
Keynote:
Sheldon Fields, PhD, RN, CRNP, FNP-BC, AACRN, FAANP, FNAP, FAAN
Dr. Sheldon Fields is a Research Professor and Associate Dean for Equity and Inclusion at The Pennsylvania State University College of Nursing.  He is a well-known and respected HIV/AIDS prevention research scientist with a focus on young men of color.  He is the first male registered nurse selected for the Robert Wood Johnson Foundation Healthy Policy Fellowship program, a Fellow of the American Academy of Nursing, Association of Nurse Practitioners and the National Academies of Practice, and a lifetime member of the National Black Nurses Association, Inc. (NBNA), currently serving as the organization's first vice president (2020-22). Fields is also founder and CEO of "The S.D.F Group, LLC", which is a health innovation consultant company. He has 29 years of experience in the health sector as an educator, researcher, clinician, administrator, consultant, health policy specialist, and entrepreneur/business owner.
Panelists:
Donna Fick, PHD, RN, GCNS-BC, FGSA, FAAN
Dr. Donna Marie Fick is the Elouise Ross Eberly Endowed Professor of Nursing at The Pennsylvania State University College of Nursing, and Director of the Penn State Center for Geriatric Nursing Excellence. Her research and practice has focused on two critical issues in older adults, inappropriate medication use and delirium superimposed on dementia (DSD).  She is a member of the interdisciplinary panel for the American Geriatrics Society Beers Criteria for inappropriate medication use in older adults, the American Geriatrics Society Board and the National Academy of Sciences, Engineering, and Medicine (NASEM) Forum on Aging, Disability and Independence.  She has co-chaired the Beers Criteria for medication use for the past 20 years.  This criterion for drugs to avoid in older adults is widely used in practice, is incorporated into the electronic record for health systems and has been cited over 3,000 times. She also serves as a faculty and advisory member on the national movement Creating an Age-Friendly Health System Initiative with the John A. Hartford Foundation and the Institute for Healthcare Improvement.
Dr. Fick is currently co-leading a Geriatric Workforce Enhancement Program (GWEP) project on Age-Friendly Care with Dr. Judy Hupcey focusing on the 4 M's of age-friendly care, medication, mentation, mobility and what matters to the older person. She is actively involved as a leader and an expert in age-friendly care and mentation and medication use on this project lecturing both nationally and internationally on this topic. Delirium occurs in over a third of older adults with COVID-19.  During the past year, she has done multiple invited lectures and training for staff caring for older adults with COVID-19 on best practices for delirium screening and management, including the rights of persons with disabilities during a pandemic. Dr. Fick has completed as principal investigator two 5-year NIH funded randomized intervention trials on delirium superimposed on dementia. She is in the final year of an RO1 grant funded by the NIA to further test the cost-effectiveness of a rapid delirium screen she co-developed as a two-step detection process. The UB-2 delirium screen can be done in less than 40 seconds with high sensitivity. Dr. Fick widely disseminates her work through over 150 publications, national media coverage, and presentations. She has been Editor of the Journal of Gerontological Nursing since 2011 and is board certified as a Gerontological Clinical Nurse Specialist through 2024.
Marie Boltz, PhD, GNP-BC, FGSA, FAAN
Dr. Marie Boltz is the Elouise Ross Eberly and Robert Eberly Chair and Professor at The Pennsylvania State University College of Nursing.  She is a geriatric nurse practitioner with extensive, cross-setting clinical and administrative experience. She has also taught at all university levels (undergraduate, master's, DNP, PhD).  Dr. Boltz's areas of research include cross-setting interventions to promote functional health in older adults, the efficacy of informal and formal carers, and translational dementia research, funded by NIH and multiple foundations.  Her expertise and commitment to gerontology have yielded numerous publications, national and international presentations, and invitations to serve on national and international research review panels, mentorship teams, and interdisciplinary research projects. Dr. Boltz's scholarship has been recognized with writing awards, teaching awards, and research awards, including the 2020 Doris Schwartz Gerontological Nursing Research Award, awarded by the Gerontological Society of America. She is a fellow in the American Academy of Nursing and the Gerontological Society of America.