Beyond Nightingale: Current and Future Perspectives on the need for Diversity, Equity, and Inclusion in Nursing
March 25, 2021 @ 6:00 pm - 7:30 pm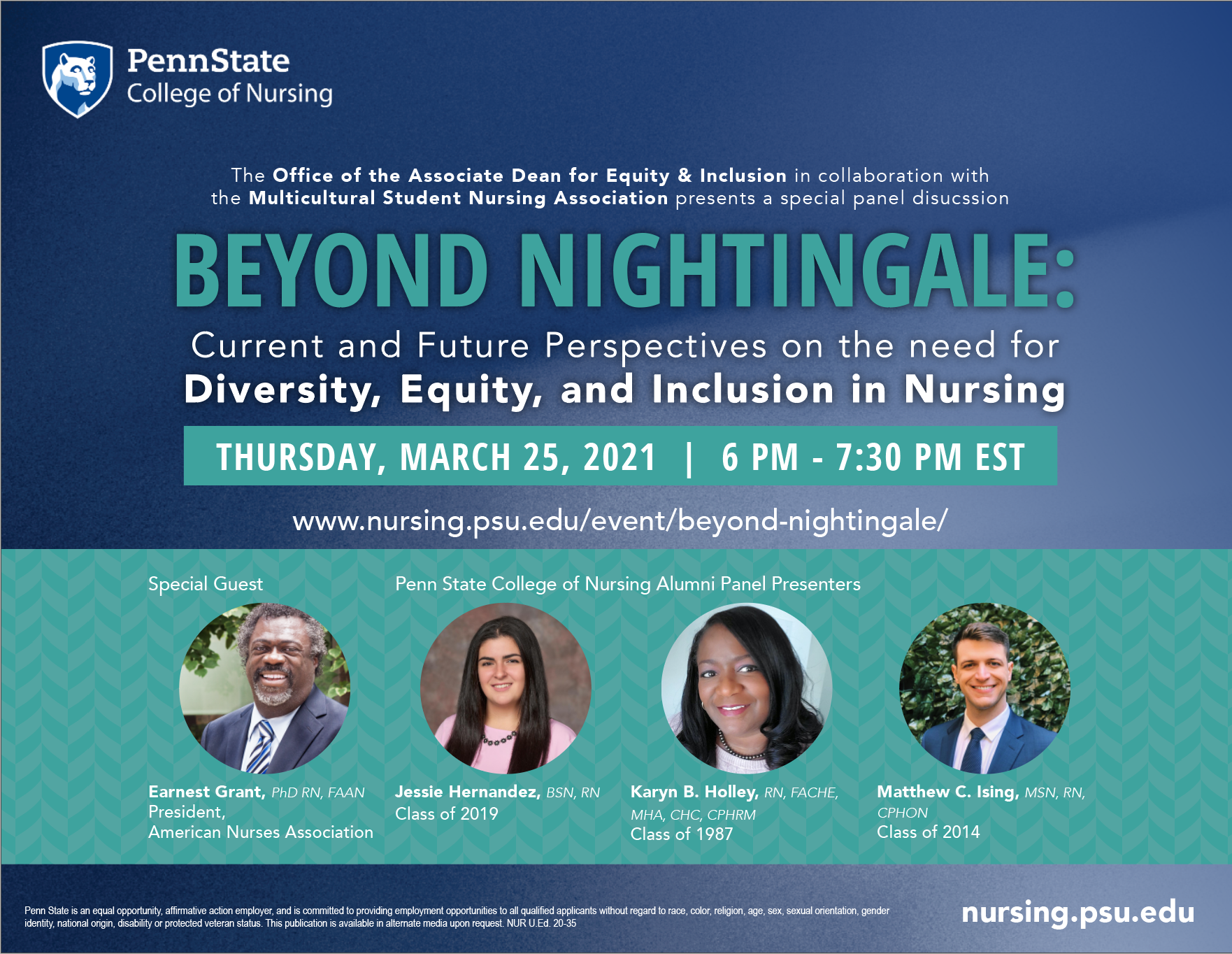 Join us for a panel discussion on the need for diversity, equity, and inclusion in nursing.
Speaker bios:
Ernest J. Grant, PhD, RN, FAAN
President, American Nurses Association
Dr. Ernest J. Grant is the 36th president of the American Nurses Association (ANA), the nation's largest nurse's organization representing the interests of the nation's 4.3 million registered nurses. He is the first man to be elected to the office of president of the American Nurses Association in its 125 years of existence.
A distinguished leader, Dr. Grant has more than 30 years of nursing experience and is an internationally recognized burn-care and fire-safety expert. He previously served as the burn outreach coordinator for the North Carolina Jaycee Burn Center at University of North Carolina (UNC) Hospitals in Chapel Hill. In this role, Grant oversaw burn education for physicians, nurses, and other allied health care personnel and ran the center's nationally acclaimed burn prevention program, which promotes safety and works to reduce burn-related injuries through public education and the legislative process. Grant also serves as adjunct faculty for the UNC-Chapel Hill School of Nursing, where he works with undergraduate and graduate nursing students in the classroom and clinical settings.
An active participant in professional organizations, Grant is a past chair of the National Fire Protection Association board of directors and served as second vice president of the American Burn Association board of trustees. He also holds membership in Sigma Theta Tau and Chi Eta Phi. Grant served as president of the North Carolina Nurses Association from 2009-11. In 2002, ANA honored Grant with the Honorary Nursing Practice Award for his contributions to the advancement of nursing practice through strength of character, commitment, and competence.
In 2002, President George W. Bush presented Grant with a Nurse of the Year Award for his work treating burn victims from the World Trade Center site. He was inducted as a fellow into the American Academy of Nursing in 2014. Grant holds a BSN degree from North Carolina Central University and MSN and PhD degrees from the University of North Carolina at Greensboro.
---
Jessica Hernandez, BSN, RN
Graduating from Pennsylvania State University College of Nursing in 2019, Jessica Hernandez BSN, RN, has practiced her Registered Nursing skills in both Urgent Care at Leon Medical Centers and Surgical/Cardiovascular Intensive Care Unit at Mount Sinai Medical Center in Miami, FL. As a second generation Cuban American, Jessica returned home after her studies at Penn State to care for the diverse and indigent population of Miami, FL. From triage to admission assessments, Jessica has been able to use both her clinical and teaching skills to bring holistic care to each patient. With dreams of working in a proactive, rather than retroactive, healthcare system, Jessica is currently applying to become a Family Nurse Practitioner. In this Panel, Jessica will shed light on the opportunities in Nursing for people of all cultures and necessity for advocacy to make a change for the people.
---
Karyn B. Holley, RN, FACHE, MHA, CHC, CPHRM 
Karyn Holley is a Penn State University Bachelor of Science Nursing alumna originally from the Philadelphia area.  She has clinical experience in Medical-Surgical, Maternal- Child, Home Health, Pediatrics and Hemodialysis Nursing in both Pennsylvania and Connecticut.  She has healthcare business experience in Urban Pediatric Clinic, Utilization Management, Payor Case Management, Workers Compensation, Risk Management and Corporate Compliance in Connecticut, Georgia, Pennsylvania and New Jersey.  She has presented on multiple occasions to the Health Care Compliance Association National Conferences and is an annual guest speaker for the Penn State Mont Alto Campus Business Ethics Undergraduate Course.  She is board- certified by the American College of Healthcare Executives and holds certifications in Healthcare Compliance and Healthcare Risk Management.
---
Matthew Ising, RN, MSN, CPHON
Matthew Ising has been a nurse for over 6 years working primarily in Pediatric Oncology, Hematology, and Bone Marrow Transplant, and has recently transitioned into leadership as the Clinical Coordinator at the Midtown Outpatient Center with the Hospital for Special Surgery. He graduated with his undergraduate nursing degree from Penn State, received his Master's Degree in Nursing Leadership from Stony Brook University, and is currently attending the University of Kansas to obtain a Doctor of Nursing Practice Degree in Nursing leadership.
Matthew has been with the Penn State Ross and Carol Nese College of Nursing Alumni Society Board of Directors for the last 6 years. He has served as the Chair of the Membership Committee and now serves as the Chair of the Diversity, Equity, and Inclusion (DE&I) Committee. He is active with the Penn State Nursing Mentoring program and the Penn State networking platform Lionlink to mentor undergraduate students. He is also serving as the Vice President for the Association of Pediatric Hematology/Oncology Nursing – Metro New York Chapter.