Living Through a Pandemic: Lessons Learned for the Second Half of Life
September 24, 2020 @ 12:00 pm - 1:00 pm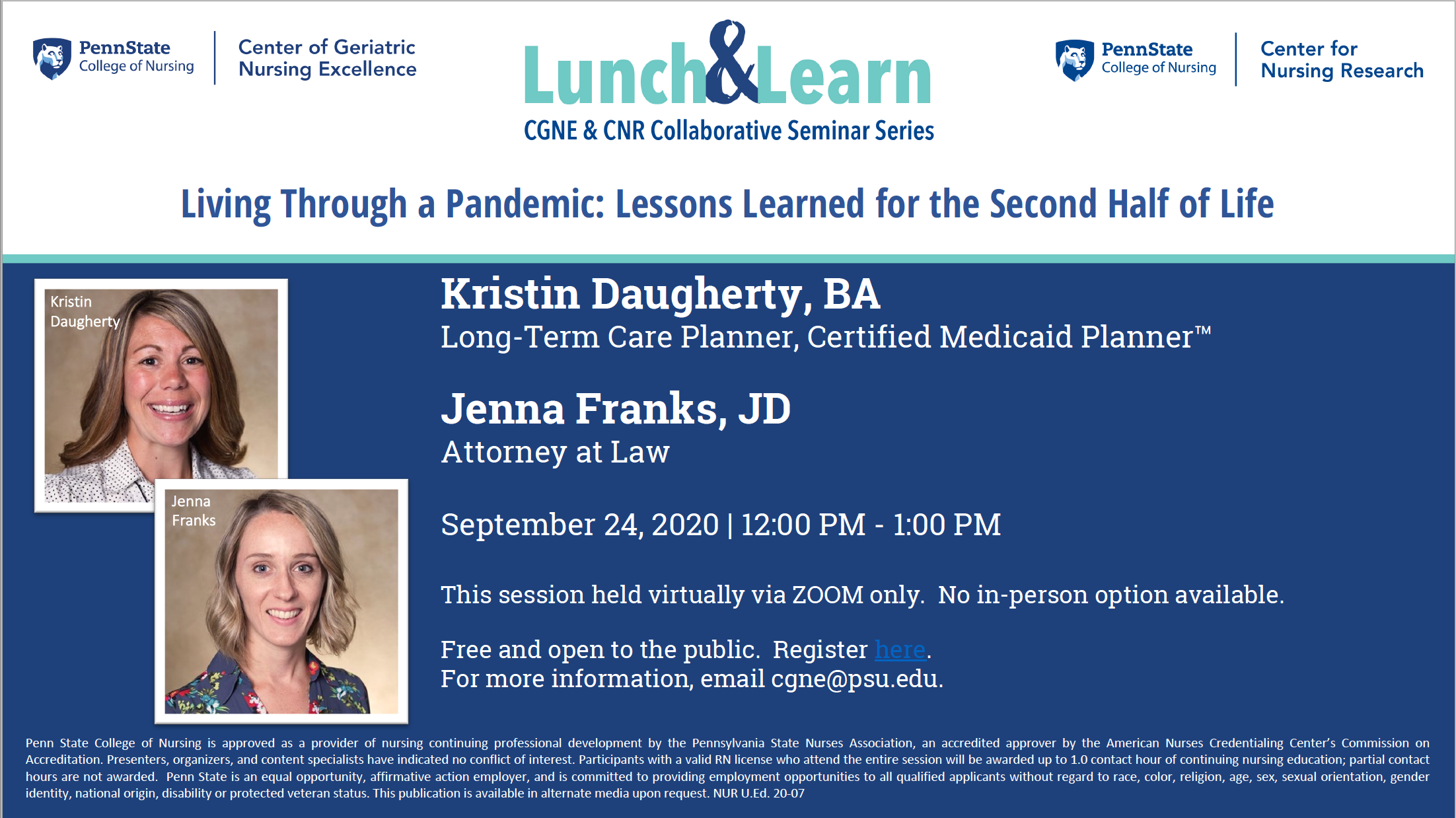 This presentation will discuss financial and healthcare preparedness, common mistakes to avoid, making life-care decisions in preparation for unplanned emergent events, and other related topics.
Kristin Daugherty is one of only three Certified Medicaid Planners™ through the Wealth Institute in the State of Pennsylvania and a Long-Term Care Planner with Steinbacher, Goodall & Yurchak. She is also a Certified Dementia Practitioner and a NCCDP Certified Alzheimer's Disease & Dementia Care Trainer.  In her current position, Kristin works closely with the firm's attorneys to provide their clients a range of services, including: counseling and guidance on the selection of long-term care options; assistance qualifying for programs such as Medicare, Medicaid, and veterans benefits; care management services; and, planning before a need arises to ensure clients' assets are protected from future long-term care costs.
Kristin graduated from Lycoming College in 2005 with a Bachelor of Arts degree in sociology and anthropology and a minor in psychology. She previously worked for the STEP, Office of Aging as a case manager for the Pennsylvania Department of Aging Waiver program. Kristin was trained through the Pennsylvania Institute of Protective Services to perform Older Adult Protective Services for individuals at high risk for abuse and neglect.
Jenna L. Franks is an Attorney at Steinbacher, Goodall & Yurchak licensed to practice law in Pennsylvania and Florida. Jenna graduated from Penn State in 2009 with a Bachelor of Arts degree in Crime, Law and Justice, and with a minor in History. After graduating from Penn State, Jenna moved to Florida and attended law school at Nova Southeastern University where she graduated cum laude.
Jenna's focus is primarily on estate planning, long-term care planning, and guardianships.  She currently serves on the advisory board for Harmony personal care community and on the board for Adult Children of Aging Parents.  Jenna is also an active member in several Centre County based groups, including the Geriatric Interest Network of Centre County, Centre County Senior Center Coalition, Academy of Special Needs Planners, and Centre County Bar Association.  Jenna has been certified as a VA-accredited attorney and was named a Super Lawyers Rising Star in 2020. More recently, she co-authored the book Protect Your Family! What You Really Need to Know For the Second Half of Life.