Dr. Loeb's research team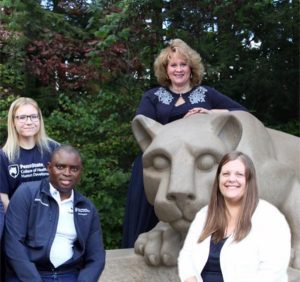 Dr. Susan J. Loeb is pictured with her research team who are Penn State proud as they pose at the Nittany Lion Shrine. Dr. Loeb leads two active National Institutes of Health/National Institute on Aging funded studies "E-Training of Inmate Peer Caregivers for Enhancing Geriatric and End-of-Life Care in Prisons — Phase II" and "Computer-based Learning to Enhance ADRD Care in Prison: Just Care for Dementia." Loeb serves as Multiple Principal Investigator [MPIs Loeb & Walkosz] and Principal Investigator respectively on the two studies, leading her Penn State team and partnering with Senior Scientist, Dr. Barbara Walkosz and the creative team at Klein Buendel, Inc. (a woman-owned, small business educational technology company in Golden, CO). This collaboration between Loeb and Klein Buendel spans seven years and three additional NIH/NIA Small Business Technology Transfer studies that were successfully completed. The focus of their work is to research, develop, and usability test computer-based training for corrections staff as well as for those who are incarcerated and serving as peer caregivers.
Advisory Boards also play a major role in Loeb's research and often are tasked to focus on particular contributions (e.g., content; implementation).
Board members bring experiences from state and federal prisons across the United States, as well as provincial and national prisons in Canada. Disciplinary perspectives and roles that are represented on the Advisory Boards are diverse and are inclusive of: correctional health care administrators; security administrators; training director; multi-disciplinary correctional practitioners (e.g., medicine, nursing pharmacy, psychology, and social work); returning citizens (previously incarcerated people); and scholars with expertise in geriatrics, dementia, and end-of-life care.
Special thanks to the Pennsylvania Department of Corrections (including administrative leaders, staff, and people who are incarcerated) for their engagement with Dr. Loeb and her team across numerous studies throughout her research focused on enhancing the care for people who are growing older, are living with dementia, and/or are approaching their end-of-life in prisons. If you are interested in learning more about Dr. Loeb's work, please reach out to her at SVL100@PSU.EDU.